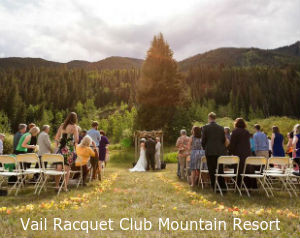 Outdoor weddings and ceremony sites are plentiful in Colorado – so brides and grooms wanting to host their wedding ceremony in a spectacular, natural location are in luck!
Whether you choose to begin your lives together on the Wedding Deck in Vail or Beaver Creek, overlooking the Ten Mile Range at Sapphire Point in Dillon, or at one of the many beautiful, outdoor venues in Denver, Fort Collins, Boulder and Colorado Springs – there is nothing quite like an outdoor wedding ceremony or reception in Colorado.
Outdoor weddings with beautiful, panoramic views are easy to plan in Colorado. Almost everywhere you turn in the high country or along the Front Range, you'll find expansive views of mountains, valleys and lakes – all perfect outdoor venues to exchange your wedding vows.
Whether you choose a ski resort, rustic ranch or something more unique, Mountain Celebrations has the venues, vendors, sites and services you need to plan your wedding.
Best Colorado Outdoor Wedding Ceremony Sites with a View
---
Vail Racquet Club Mountain Resort
4695 Vail Racquet Club Drive
Vail, CO 81657
Vail Racquet Club Mountain Resort

(From 10 – 150 Guests) The Vail Racquet Club Mountain Resort is the largest Resort property in the Vail Valley and as such, can offer privacy with expansive scenic views! Choose from their 17,000 sq. foot park, the 4,300 sq. foot Royal Elk Terrace with the 1,100 sq. foot Royal Elk Room or the beautiful meadow area. All great choices, all perfect locations. Here you'll find beautiful choices for ceremony, reception and rehearsal sites.

---
Garden of the Gods, Colorado Springs, CO
(Up to 50 Guests) The towering red rock formations of the Garden of the Gods Park are a spectacular backdrop for your Colorado wedding, and the area is free! Weddings at the Garden of the Gods are allowed provided they are small, brief ceremonies, and no receptions are allowed in the park unless you are having a picnic at the Scotsman or South Spring Canyon Picnic areas.
Vail Wedding Deck, Vail Resort (up to 180 guests)
The Vail Wedding Deck is the perfect touch to make your wedding stand out from the rest. A stone outdoor amphitheater with breathtaking views of the surrounding peaks, and seating for approximately 180 people. Conveniently located at the top of Vail Mountain, it's only a short walk from the top of the Eagle Bahn Gondola. The wedding deck is available late June through early September.
Beaver Creek Wedding Deck (up to 200 guests)
Mother Nature provides a stunning backdrop for Beaver Creek's outdoor wedding deck overlooking the Gore Range. Located in the hillside east of Spruce Saddle Restaurant and created from natural stone and materials, wedding parties up to 200 people can experience an unforgettable summertime mountaintop celebration
Timber Ridge, Keystone Ski Resort
Located at the top of North Peak, Timber Ridge offers a spacious mountain lodge atmosphere with cathedral ceilings and a two-story fireplace. Ceremonies on its outdoor wooden deck have magnificent views of the Gore and Ten Mile Ranges.
Sapphire Point Ceremony Site – Dillon, CO Ranger District
How about the most spectacular/most budget-conscious wedding venue you can find in Summit County, Colorado? For about $100, you can reserve Sapphire Point, (between Frisco and Breckenridge) the only designated wedding site in the Dillon Ranger District.
Secret Garden, Colorado Springs, CO
(Up to 150 Guests) Small weddings are their specialty. The grounds can accommodate ceremonies and receptions for groups of all sizes up to 150 people. There is plenty of room for dancing beneath a blanket of stars, toasting at the foot of a water fountain and cutting the cake under a full moon.
---
Colorado Ranch & Rustic Western-style Ceremony Sites
C Lazy U Guest Ranch, Granby Colorado
Situated about two hours from Denver in the heart of the scenic Rocky Mountains, C Lazy U's secluded location is accessible, yet removed from the unwanted distractions found at urban convention sites.
Accommodates up to 180 guests in the summer, 120 guests in the winter. Experience the extraordinary blend of the Colorado frontier and fine dining in the rustic elegance of this original 1930's Ranch homestead. Summer ceremonies are orchestrated on the luxurious green lawn overlooking Keystone Ranch Golf Course with spectacular views of Swan Mountain and the Ten Mile Range.
Nestled in a secluded mountain valley with chairlift access to sweeping views from Winter Park to Grand Lake, Granby Ranch is the ideal setting for an intimate Rocky Mountain wedding. Host your mountain-top ceremony, reception, and rehearsal dinner all onsite at Granby Ranch.
The Wolcott Yacht Club property is multifaceted and has many beautiful options to choose from to create your own special event.
---
Lake Front Weddings in Colorado
Point Dillon Park & Lawn — Dillon, CO
Hold your wedding or event with stunning views of the Ten Mile and Gore Ranges in the background, and crystal clear Lake Dillon in the fore. Point Dillon Park and Lawn is located on West Lodgepole Street in front of Lake Dillon Condominiums, overlooking the north end of Dillon Reservoir.
Grand Lake Lodge, Grand Lake, CO
This classic Colorado summer mountain lodge is surrounded by the mountains of Rocky Mountain National Park. It sits perched on a hillside above Grand Lake Village, Grand Lake and Shadow Mountain Reservoir. Located just beyond the main lodge, in the beautiful green pines, is a variety of rustic cabins that offer many fantastic views – views that you will never forget!
Owned by the United State Forest Service (USFS), the Town of Grand Lake aides in the management of this unique park. Bordered by Grand Lake and the Shadow Mountain Connecting Channel, the park offers ample access to non-motorized boats and fishing as well as an ideal place for picnicking, family events and outdoor weddings.
---
We have all the venues, reception facilities and services needed to plan you Colorado wedding. Please let them know you found them on Mountain Celebrations!